Greetings sisters and brothers loved by the Lord,
We are canceling activities at both churches (Fork & Waugh) including this Sunday, 3/15/2020. We may have to cancel more, we will see.
After reviewing the available information, your leaders and I have decided that we need to join the effort to stem the spread of this and other viruses.
In John 15, Jesus said,
My command is this: Love each other as I have loved you. 13 Greater love has no one than this: to lay down one's life for one's friends.
Jesus loved us by sacrificing his interests for the sake of others. As much as we would like to have church and the majority of us would be fine, we need to think of others. Gathering in public places right now is being discouraged, so we sacrifice our desire to gather for the sake of the good of all.
However, now is the time to keep in contact by other means. I am going to be on the phone, talking to as many of you as I can reach. I encourage you also to reach out to the folks that you would see in church. There may be a word that you will bring by the virtue of the Spirit that the other needs to hear.
If you are not already connected to us by the internet, be sure to look us up at forkumc.org 
in addition, both (Fork & Waugh) have Facebook pages.
Below, you will find a message from our bishop, Rev. LaTrelle Easterling. You can find out more from our area of the UM Church at BWCUMC.org
Thank you, and I'll be talking with you soon.
Pastor Daniel 

UPDATE:
Following this afternoon's press conference by Maryland Governor Larry Hogan in which he declared a state of emergency, Bishop Easterling is directing all United Methodist churches in the state of Maryland to not gather in their church buildings for two weeks; for conference camps and archives to close, and for the Mission Center building to close. Conference Center staff will work remotely.
 
Bishop Easterling also encourages churches in West Virginia to make safety and their congregants' well-being a top priority. Please maintain appropriate personal space, and be alert to any announcements by state officials.
 
United Methodists throughout the conference should be checking on their neighbors and offering pastoral care to those in need whom they encounter.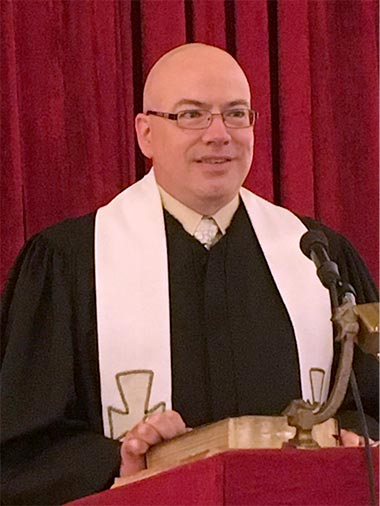 Hi, Neighbor!
I am Pastor Daniel, the pastor at the Fork/Waugh United Methodist Churches. On behalf of all our church family, I invite you to join us for worship and discipleship opportunities.
We worship Sunday morning, 9:30am at FORK Church and 11am at WAUGH Church. We are glad to assist with special needs access or rides to worship.
Please contact our church office any day prior to service, to schedule a ride to worship.
In Jesus' love,
Pastor Daniel Montague, III
and the Fork/Waugh United Methodist Church family
Fork United Methodist Church
12800 Fork Road
Fork, Maryland 21051
Office: 410-592-8303
Waugh United Methodist Church
11453 Long Green Pike
Glen Arm, Maryland 21057
Office: 410-592-8303